We are committed to providing customers reliable, high quality products, at the best possible price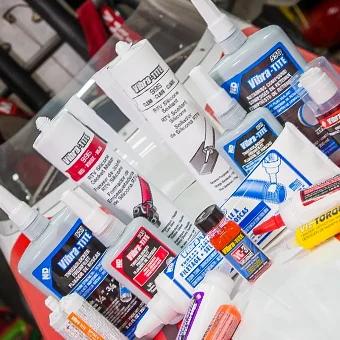 Vibra-Tite, the bottled product division of ND Industries, is one of the world's market leaders in anaerobics, cyanoacrylates, epoxies and ultra-violet technologies.
As a fully integrated supplier, we're a one-stop source, providing design engineering, custom chemical formulations, and distribution.
Since 1955 ND Industries has specialized in the development of innovative materials and processes which increase the safety and reliability of fastener assemblies.
Headquartered outside Detroit, ND serves a global market with divisions across the continental US, facilities in Taiwan and licensees around the world. ND's core business revolves around the application of a wide variety of materials onto fasteners and assemblies to aid in functions such as locking, sealing, masking, lubricating, and noise and vibration dampening. ND manufactures a line of bottled adhesive and sealant products under the Vibra-Tite brand name for MRO and retail use.
LASTEST NEWS & MEDIA
Sell Sheet
It's hard picking a favorite superglue, but this could be the one.